WALLY BERG (1927 - 2000)
This Page Is Dedicated to the Memory of Wally Berg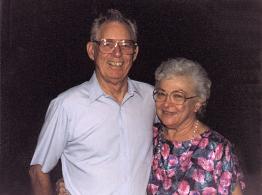 Wally & Dorothy Berg
---
The Bromeliad World has lost a true friend; Wally Berg, of Sarasota, Florida, passed away on Monday, March 27, 2000. During this past year, Wally shared a large portion of his slides from his many adventures in South America by allowing them to be posted on this site.
Through his generosity, visitors to this site have been able to see not only bromeliads in habitat, but also to see the people and the communities that share the lands of the bromeliads and to view the intrepid adventures of Wally and Friends.
Just a few short months ago, Wally devised a way to share many of his plants by having a sale and auction at Tropiflora and thus bromeliad lovers had an opportunity to have a piece of the legendary Berg Cage collection. It is in Wally's enthusiasm to promote bromeliads and to share them as well with the world at large that his legacy will endure.
We will miss Wally Berg.
---
---
He was a source of inspiration to people old and new
Get filled up with his wisdom like only he could do
To teach us was his desire
To prove it was his game
If it was possible, he grew it
And if not, he knew the name.
For many he's the reason we strive for number one
He made it such a challenge and always kept it fun
His motto for life was 'family first,' to live, to laugh, to sing
In the bromeliad world we've lost a friend
In fact we've lost the KING

by Marty Baxley
---
Bromeliads Discovered by Wally Berg
Guzmania bergii
Pitcairnia bergii
I'm sure there are some more that we have overlooked. If you know of other bromeliads that Wally helped to discover please email webmaster@fcbs.org
---
---

Bill Clark took this photo of Wally a couple of weeks before his passing.
You will recognize the location as his eventual burial plot.
---
https://fcbs.org/
---