Carol Johnson and Geoff Johnson
The Legends of Pineapple Place
Carol Johnson and, later, her son Geoff were owners of the now legendary bromeliad nursery 'Pineapple Place' in Longwood, Florida. Their nursery was renowned for the variety and the rarity of the bromeliads they grew, loved and often reluctantly sold. Both Carol and Geoff had a long history of service to the bromeliad community, both at home and around the world.
Carol was a member of the Bromeliad Society of Central Florida (BSCF) and one of the founding members of the Seminole Bromeliad Society. In 1977, she also was one of the forces behind the creation of the Florida Council of Bromeliad Societies, which she saw as the best vehicle for coordinating statewide efforts for bromeliad education, encouragement for hobbyists and assisting local societies in their efforts. She was the first and only editor (until her death) of the Council's quarterly newsletter, which is still sent to every member of a bromeliad society in Florida. The Council's s newsletter was a compendium of bromeliad cultivation information, Council news, and promotions for bromeliad related events throughout the state. In addition to being the editor, she also served as the Council's treasurer.
Upon her death, Geoff took over the newsletter duties. He also served the bromeliad community in a number of roles. He was a member of both BSCF and Seminole County Bromeliad Society. He was president of BSCF for a couple of years, and his programs were popular. He was the programs chairman for the BSI World Conference, Orlandiana 1996. As with his mother, Geoff was renown for his memory and his ability to identify any bromeliad presented to him. He was also known for his jokes, some good and some bad, but always told with good-natured humor.
Carol died in December 1998 and Geoff died in February 2000. Carol's husband James died in April 1999. They are survived by daughters/sisters Judy and Kristi. On March 4, 2000, the entire contents of Pineapple Place (more than 10,000 plants) were sold, down to the greenhouses. Both Carol and Geoff made lasting marks on the bromeliad community, and their legacy endures in the memories of their friends and in bromeliad collections around the world. Their untimely deaths closed the chapter on one of the most famous bromeliad nurseries, Pineapple Place.
---
---
Articles By Carol Johnson
---
---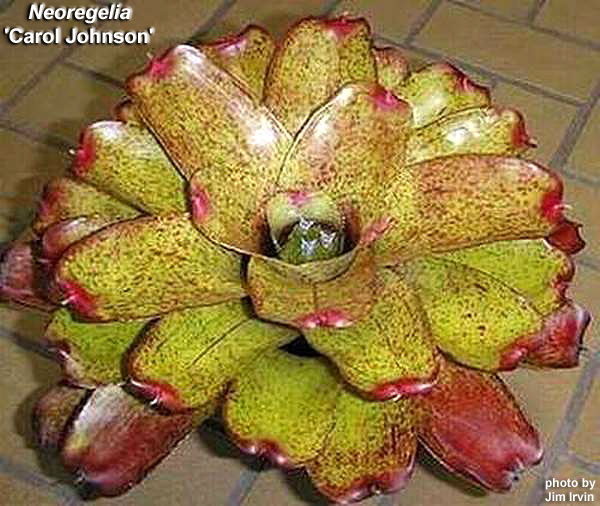 A cultivar of Neoregelia johannis X Neoregelia 'Angel Face' by Jim Irvin
---
https://fcbs.org/
---