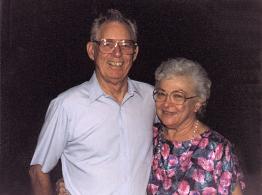 Wally & Dorothy Berg
Located on a canal on Phillippi Creek in Sarasota Florida, our home displays Wally's collection of over 1,100 species, not counting the hybrids, of bromeliads that he has collected over the past 16 years.
The lanai and pool cage area contain tropical plants, fish pond, free flying birds and a 7ft waterfall. The entire front yard is shaded by a huge oak tree which plays host to an unbelievable amount of bromeliads.
We hope you enjoy these pictures of our home and Wally's bromeliads.

Dorothy Berg